Max Rosenn U.S. Courthouse
197 South Main Street, Suite 161
Wilkes-Barre, PA 18701
Do not rely on GPS for this address, it has been known to give inaccurate directions. Use directions below or Google Maps only.
See Parking Information Below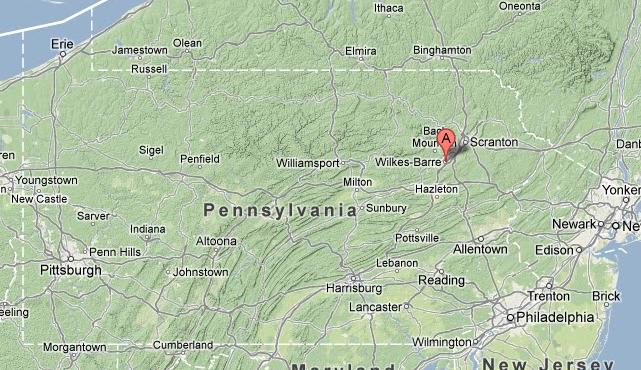 Wilkes-Barre lies in the Northeastern section of Pennsylvania. It has easy access from Interstates 80, 81, 84, 380, and the Northeast Extension of the Pennsylvania Turnpike (I-476).
Directions:
If traveling I-81: Exit at 170B (Wilkes-Barre, Rt 309) to Route 309 North
If traveling the Pennsylvania Turnpike: Take Exit 105 (Wilkes-Barre) and turn left onto Route115 North for approximately six (6) miles to Route 309 North
If traveling Route 309: Take Exit 2 (Wilkes-Barre Center City) off Route 309 North
Turn left at light on to Wilkes-Barre Blvd.
Go six (6) traffic lights to E. Northampton St. (McDonald's Restaurant on right) and turn right.
Go three (3) blocks to intersection of So. Main and E. Northampton Sts.
Parking: Continue forward on E. Northampton St. to use Park & Lock #6, or turn right on So. Main to use Central Park & Lock.
DO NOT PARK IN THE WILKES UNIVERSITY PARKING LOT.  YOU WILL BE TOWED AT YOUR OWN EXPENSE.
To generate directions to the Wilkes-Barre Federal Building and U.S. Courthouse via Google Maps (click Get Directions and enter your starting address in the A address box, then click the blue Get Directions button ).

(Click thumbnail for larger image.)
---